I Bailen annunciano l'album doi debutto THRILLED TO BE HERE, in uscita il 26 aprile su Fantasy Records via Caroline International.
Splendide armonie, arrangiamenti sorprendenti e testi evocativi contraddistinguono la nuova band BAILEN, trio con base a New York e composto dai fratelli gemelli Daniel (voce / basso / synth / chitarra) e David (voce / batteria) e la sorella minore Julia Bailen (voce / chitarra).
Annunciano la pubblicazione del loro album di debutto Thrilled To Be Here, prodotto dal vincitore del GRAMMY John Congleton (St. Vincent, The War on Drugs), il 26 aprile 2019 tramite Fantasy Records via Caroline International.
Armonie seducenti in tre parti alimentano il primo singolo dell'album "I Was Wrong", una dichiarazione di compassione e auto-riflessione. "La canzone parla di stare insieme e ascoltare l'altro lato in una discussione, ascoltare un'altra prospettiva e poter dire che avevo torto. È stato ispirato dal crescente divario globale nell'ideologia e da una riluttanza generale ad ascoltare qualcuno con opinioni divergenti. A volte la cosa più difficile da fare è ammettere i propri difetti, ma spesso è l'unico modo per andare avanti ".
La musicalità ultraterrena di BAILEN nasce nel loro DNA. Cresciuti a New York dai genitori di formazione classica, Daniel, David e Julia si sono immersi nella variegata collezione di dischi della famiglia. Le canzoni altamente collaborative del gruppo sono formate da tre individui molto diversi che sono stati tutti ispirati dalla letteratura e dall'amore per il linguaggio.
Il conseguente meticoloso e cangiante lavoro artistico di "Thrilled To Be Here" è radicato nella destrezza soprannaturale e nell'intuizione lirica del giovane gruppo.
Orientati ai dettagli e precisi, i membri di BAILEN hanno trovato il perfetto contrappunto nell'approccio più aperto del produttore Congleton: "Pensiamo in piccolo e John è stato davvero bravo a pensare in grande per il disco", osserva Julia. "I primi dischi sono speciali perché hai passato tutta la vita a scriverli. Registrando il nostro album in un mese nello stesso studio con un produttore abbiamo mantenuto la creatività, ma abbiamo anche trovato la coesione."
I BAILEN sono emersi sulla scena coltivando un seguito appassionato attraverso i loro live, con oltre 300 spettacoli fino ad oggi, e facendo tour e collaborazioni con artisti come Amos Lee, The Lone Bellow, Joseph, Oh Wonder e altri. La band ha anche annunciato un tour americano da Febbraio ad Aprile al momento.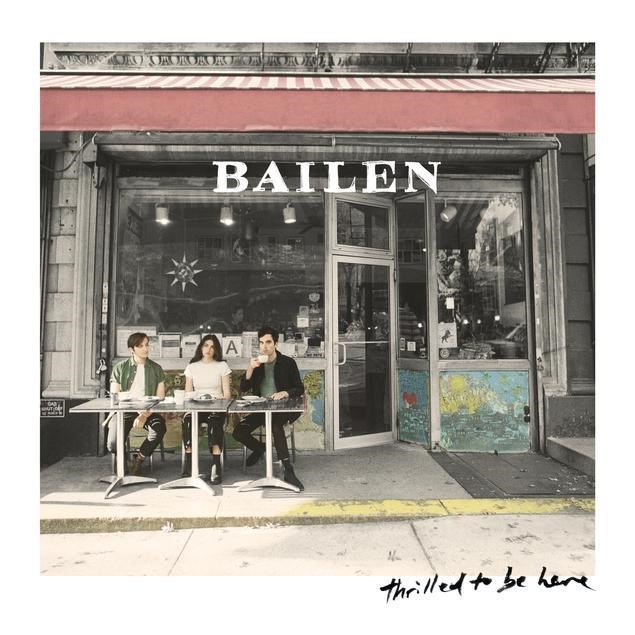 Something Tells Me
I Was Wrong
Your Love Is All I Know
Bottle It Up
Stand Me Up
Going On A Feeling
Stray Dog
Eyelashes
Not Gonna Take Me
Rose Leaves
Careless Wishing